Early expansion of circulating granulocytic myeloid-derived suppressor cells predicts development of nosocomial infections in septic patients
Rationale - Sepsis induces a sustained immune dysfunction responsible for poor outcome and nosocomial infections. Myeloid-derived suppressor cells (MDSCs) described in cancer and inflammatory processes may be involved in sepsis-induced immune suppression, but their clinical impact remains poorly defined.

Objectives - To clarify phenotype, suppressive activity, origin, and clinical impact of MDSCs in patients with sepsis.

Methods - Peripheral blood transcriptomic analysis was performed on 29 patients with sepsis and 15 healthy donors. A second cohort of 94 consecutive patients with sepsis, 11 severity-matched intensive care patients, and 67 healthy donors was prospectively enrolled for flow cytometry and functional experiments.

Measurements and main results - Genes involved in MDSC suppressive functions, including S100A12, S100A9, MMP8, and ARG1, were up-regulated in the peripheral blood of patients with sepsis. CD14HLA-DR monocytic (M)-MDSCs were expanded in intensive care unit patients with and without sepsis and CD14CD15 low-density granulocytes/granulocytic (G)-MDSCs were more specifically expanded in patients with sepsis (P < 0.001). Plasma levels of MDSC mediators S100A8/A9, S100A12, and arginase 1 were significantly increased. In vitro, CD14- and CD15-cell depletion increased T-cell proliferation in patients with sepsis. G-MDSCs, made of immature and mature granulocytes expressing high levels of degranulation markers, were specifically responsible for arginase 1 activity. High initial levels of G-MDSCs, arginase 1, and S100A12 but not M-MDSCs were associated with subsequent occurrence of nosocomial infections.

Conclusions - M-MDSCs and G-MDSCs strongly contribute to T-cell dysfunction in patients with sepsis. More specifically, G-MDSCs producing arginase 1 are associated with a higher incidence of nosocomial infections and seem to be major actors of sepsis-induced immune suppression.


Fichier principal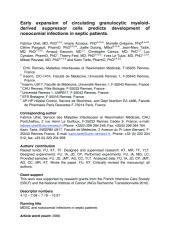 MDSC_sepsis - Uhel 2017.pdf (13.36 Mo)
Télécharger le fichier
Origin : Files produced by the author(s)