Prise en charge thérapeutique des tuberculoses résistantes
The incidence of drug-resistant tuberculosis is no longer increasing and significant progress have been made in the last decade regarding the prognosis of this severe disease. Its treatment is however still difficult and a multidisciplinary approach is of great importance to better treat these patients. Fluoroquinolones have to be used in case of isoniazid resistance, associated with rifampicin-ethamutol and pyrazinamid. Anti-tuberculosis drugs for multi or ultra-drug resistant tuberculosis are now classified into three groups according to their efficacy. Fluoroquinolones, bedaquiline and linezolid are the drugs of choice and have to be used as first line therapy. However, the choice of the initial treatment has to be based on the genotypic resistance research results and on the therapeutic history of the patient. Treatment duration is long and side effects are frequent but results of many recent studies pave the way to shorter and better tolerated treatments in a near future.
Même si des progrès importants ont été réalisés cette dernière décennie, la prise en charge des personnes atteintes de tuberculose résistante reste difficile. Une prise en charge pluridisciplinaire permet de traiter au mieux ces patients complexes. En cas de résistance isolée à l'isoniazide, les fluoroquinolones seront associées à la rifampicine, l'éthambutol et le pyrazinamide. Les antituberculeux utilisables en cas de tuberculose multi (MDR) ou ultrarésistante (XDR) sont dorénavant classés en trois groupes selon leur niveau d'efficacité, les fluoroquinolones, la bédaquiline et le linézolide représentant le premier groupe, et donc les molécules à utiliser en première intention. Le choix du traitement initial en cas de tuberculose MDR ou XDR sera guidé par les résultats des tests génotypiques de résistance et l'histoire thérapeutique du patient. Les traitements restent prolongés et associés à des effets indésirables importants, mais de récents progrès permettent d'espérer prochainement des traitements plus courts et mieux supportés.
Fichier principal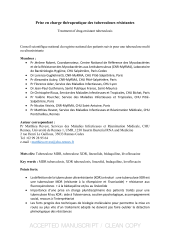 Revest et al - 2022 - Prise en charge thérapeutique des tuberculoses résistantes.pdf (340.36 Ko)
Télécharger le fichier
Origin : Files produced by the author(s)