Apport du laboratoire pour le diagnostic des myiases
Myiasis are a living being parasitism with a fly larvae or maggot. Some are obligate parasites, other live in decaying organic matters and accidentally occur on human. Four clinical types can be recognized, cutaneous, subcutaneous, luminal and deep myiasis. A brief identification key for stage III maggots responsible for myiasis is provided, though identification is a specialist matter. Treatment lay on manual removal of fly larvae and wounds careful cleansing. Furthermore, ivermectine is efficient on hypodermosis.
Les myiases sont liées au parasitisme d'un être vivant par des larves de mouches ou asticots. Certaines de ces larves sont des parasites obligatoires; d'autres vivent normalement sur des matières organiques en décomposition et se développent accidentellement chez l'homme. Sur le plan clinique, on distingue les myiases cutanées, sous cutanées, cavitaires et profondes. Une clé sommaire d'identification des asticots responsables des myiases les plus fréquentes (uniquement sur les stades III) est proposée tout en sachant que cette identification est affaire de spécialiste. Le traitement se résume à l'extraction manuelle des larves et au décapage minutieux des plaies. Dans l'hypodermose l'ivermectine est active.
Fichier principal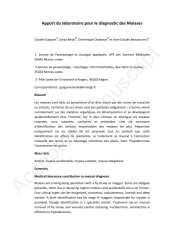 Guiguen et al-2020-Apport du laboratoire pour le diagnostic des Myiases.pdf (3.6 Mo)
Télécharger le fichier
Origin : Files produced by the author(s)