Métaux, pollution de l'air et santé : Les mousses, des alliées originales en épidémiologie
While evidence has accumulated about the links between long-term exposure to air pollution and health, little is known about the health effects of airborne metals. In France, the law makes it mandatory to monitor atmospheric concentrations and deposition of some airborne metals, through measurements or modelling. But the available data are either too scarce or irregular, making them difficult to use in large-scale epidemiology: using mosses in the wild offers a welcome alternative. Mosses belong to the few vegetal organisms able to accumulate airborne metals. As such, they have been used for decades in air quality survey networks in Europe. They provide data to assess population exposure to airborne metals and may complement classical research programmes on air pollution epidemiology. As an example, we estimated associations between exposure to airborne metals of anthropogenic origin and increased mortality in France.
L'exposition à long terme aux particules atmosphériques a des effets bien documentés sur la santé humaine, mais le rôle des métaux reste à explorer. En France, la réglementation impose le suivi des teneurs ambiantes de certains métaux. Mais ces données, du fait d'un maillage trop large ou irrégulier, sont difficilement exploitables en épidémiologie à grande échelle. Les mousses, des végétaux capables d'accumuler les métaux atmosphériques, sont utilisées depuis plusieurs décennies en biosurveillance de la qualité de l'air. Elles fournissent des données exploitables en épidémiologie grâce auxquelles nous avons montré une association entre métaux d'origine anthropique et sur-risque de mortalité en France.
Fichier principal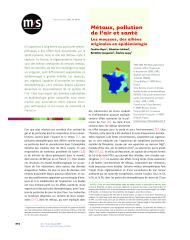 msc190326.pdf (1.21 Mo)
Télécharger le fichier
Origin : Publisher files allowed on an open archive