The complex nonstoichiometry of wüstite Fe 1-z O: review and comments
Thermodynamic properties and structural aspects of the nonstoichiometric wüstite Fe1-zO, and its modifications - the so-called pseudo-phases - as functions of departure z from stoichiometry and of equilibrium temperature are reviewed from 1960 to present. The complexity of the equilibrium phase diagram is described in some details. The first order transition W ⇆ W' is specified on the iron/wüstite boundary near 1185 K. Transitions correlated to the modifications Wi at T(W) > 1185 K and W'j at T(W') < 1185 K (i and j =1,2,3) are re-examined. Structural determinations based on the characterization of point defects stabilization and of their clustering are reviewed. Additionally, the pseudo-phases are examined based on the transformation of defect clusters or of their mode of distribution (i.e., percolation or superstructure) with the inclusion of changes in electronic charge carriers.
Une mise au point bibliographique des propriétés thermodynamiques et structurales de la wüstite non-stœchiométrique Fe1-zO et de ses variétés -ou pseudo-phases- en fonction de sa composition z et de la température d'équilibre est faite de 1960 à ce jour. L'attention est d'abord portée sur la complexité du diagramme de phases à l'équilibre. La transition du premier ordre W ⇆ W' est précisée sur la frontière fer/wüstite au voisinage de 1185 K. Les transitions dues à l'existence des pseudo-phases Wi à T(W) > 1185++ K et W'j à T(W') < 1185+ K (i et j =1,2,3) sont reconsidérées, de même que les déterminations structurales relatives aux défauts ponctuels et à leurs amas. Des équilibres sont envisagés, qui tentent de caractériser la stabilité de ces pseudo-phases. Elles peuvent être interprétées en termes de transformation ou de mode de distribution des amas de défauts (i.e., percolation, surstructure) en incluant des changements dans les porteurs de charges électroniques.
Fichier principal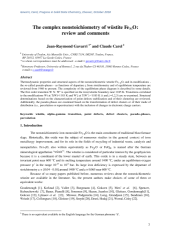 WÜSTITE-PSSC-2018.pdf (2.67 Mo)
Télécharger le fichier
Origin : Files produced by the author(s)