Traitement de l'information faciale des enfants avec troubles du spectre autistique et enfants au développement typique : un traitement particulier des faces animales ?
Face processing impairment is associated with social interaction disorders observed in autism spectrum disorders (ASD), such as children with ASD explore human eyes less than do neurotypical (NT) children. In a communicative situation, each partner uses signals emitted by the other (e.g. postures, gestures or gaze directions) to collect information to adjust their behaviour, in both humanhuman or human-animal interactions. Indeed, animals are part of humans' environment and present numerous benefits. Thus, given the strong bonding between ASD children and animals, we hypothesized that animal face processing by people with ASD would be typical. Our study compared the patterns of fixation of ASD (n=12) and NT (n=18) children recorded while exploring human and animal (horse, dog, and cat) faces in a passive viewing task using an eye tracking technique. Our results, using animal pictures, confirmed that the eyes were the part of the face explored the longest by NT children and, to a lesser extent, by ASD children, but only NT children looked at the eyes of human pictures longer than other parts. Implications for understanding social interaction impairment related to ASD are discussed.
Les altérations dans le traitement de l'information faciale peuvent être associées aux difficultés d'interactions sociales observées dans les Troubles du Spectre de l'Autisme (TSA). Les enfants avec TSA (ETSA) accordent peu d'importance à la région des yeux à la différence des enfants au développement typique (EDT). Dans une situation de communication, chaque partenaire utilise les indices émis par l'autre (e.g. posture, geste, direction du regard) pour recueillir des informations afin d'ajuster leurs comportements, aussi bien dans des interactions entre humains qu'entre l'humain et l'animal. En effet, les animaux font partie de l'environnement des êtres humains et présentent de nombreux bénéfices. Ainsi, compte tenu du lien fort pouvant exister entre les ETSA et les animaux, nous posons l'hypothèse que le traitement de l'information faciale des animaux pourrait être typique dans les TSA. Nous avons mis en place une tâche d'exploration visuelle par eye tracking incluant des photographies en noir et blanc représentant des faces d'humains et d'animaux (chat, chien, cheval) qui ont été présentées à 18 EDT et 12 ETSA. Les résultats montrent que sur les photographies de faces d'animaux, la zone des yeux a été la zone la plus regardée tant par les EDT que les ETSA, quel que soit l'espèce animale ; et que sur les photographies de faces d'humains, seuls les EDT ont significativement plus regardé la zone des yeux. Les implications pour la compréhension des altérations des interactions sociales dans les TSA sont discutées.
Fichier principal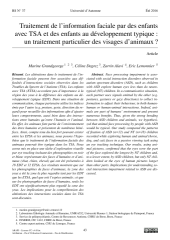 Grandgeorge_et_al-2016.pdf (1.01 Mo)
Télécharger le fichier
Origin : Publisher files allowed on an open archive