Influence of the solvent and of the reaction concentration for palladium-catalysed direct arylation of heteroaromatics with 4-bromoacetophenone
The solvent is certainly one of the main sources of wastes during palladium-catalysed direct arylation reactions. We found that such direct arylations of heteroaromatics can be performed using very high concentrations of reactants (0.5 M–5 M). However, the Pd catalyst precursor used must be adapted to both the solvent nature and the concentration of reactants. The reactions performed in DMA, NMP or DMF can be carried out in very concentrated reaction mixtures using 0.1 mol% Pd(OAc)2 catalyst without phosphine ligand. On the other hand, the reactions in CPME, pentan-1-ol or diethylcarbonate should be performed with a palladium catalyst associated with a phosphine ligand. These reaction conditions allow us to reduce the amount of wastes formed in the course of these couplings.
Le solvant est certainement l'une des principales sources de déchets lors des réactions d'arylation directes d'hétéroaromatiques catalysées au palladium. Nous avons constaté que ces réactions peuvent être réalisées en utilisant des concentrations très élevées (0,5 M–5 M). Cependant, le catalyseur de palladium utilisé doit être adapté à la fois à la nature du solvant et à la concentration des réactifs. Les réactions effectuées dans le DMA, la NMP ou le DMF peuvent être réalisées dans des mélanges réactionnels très concentrés, en utilisant 0,1 mol % de Pd(OAc)2 sans addition de ligand de type phosphine. En revanche, les réactions dans le CPME, le pentan-1-ol ou le carbonate de diéthyle doivent être effectuée avec un catalyseur de palladium associé à un ligand phosphine. Ces conditions réactionnelles permettent de réduire la quantité de déchets formés au cours de ces couplages.
Fichier principal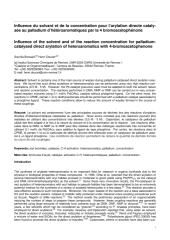 Influence of the solvent and of the reaction concentration for palladium-catalysed direct arylation of heteroaromatics with 4-bromoacetophenone.pdf (93.95 Ko)
Télécharger le fichier
Origin : Files produced by the author(s)