Laterality Influences Agility Performance in Elite Soccer Players
Introduction Laterality (i.e., handedness, footedness, and eyedness) could have an impact on highly repeated soccer movements and thus, could influence performance. The purpose of this study was to examine the laterality of high-level football players and its effects on 180 degrees left and right U-turn movements.
Materials and Methods Handedness, footedness, and eyedness were determined in 72 elite football players (EFP, 18.2 +/- 2.2 years) from the Stade Rennais Football Club (French League 1) and 9 amateur football players (AFP, 19.6 +/- 2.1 years). Players performed a visual-motor task on a synthetic pitch consisting of 180 degrees left and right rotations as fast as possible in response to a visual light on a computer screen. Movement times and reactive times for each left and right rotation were recorded with an accelerometer and video display.
Results Laterality profiles showed a majority (chi(2) = 9.42, df = 2, p = 0.031) of crossed formulas (i.e., dominant leg or hand is controlateral to the dominant eye) for EFP (53 +/- 7%) and a majority of non-crossed formulas for AFP (63 +/- 9%). Reaction times were significantly faster (p = 0.028, effect size = 0.148, trivial) in EFP right-eyed (568.2 +/- 55.5 ms) than in AFP (610.0 +/- 43.9 ms). For the left rotation and for right-footed players, movement times were significantly different (p = 0.043, effect size = 0.413, small) between EFP (1.15 +/- 0.07 s) and AFP (1.17 +/- 0.07 s). A significant difference (p < 0.033) was observed between footedness and rotation movement times in the EFP.
Conclusion Our results showed that laterality profiles differed between EFP and AFP. Hence, in EFP, reaction times depended on the side of the visual stimulus. Moreover, leg laterality of EFP influenced 180 degrees left or right rotation speed. Our results indicate the importance of determining laterality in soccer players and identifying deficits in performance when turning.
Fichier principal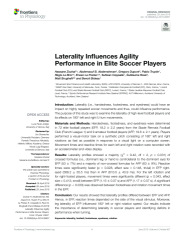 pdf (533.87 Ko)
Télécharger le fichier
Origin : Publisher files allowed on an open archive