Possible Mechanism for Hole Conductivity in Cu–As–Te Thermoelectric Glasses: A XANES and EXAFS Study
Recently synthesized thermoelectric Cu-As-Te glasses have been analyzed by X-ray Absorption Spectroscopy, both near-edge (XANES) and in the extended region (EXAFS), in order to shed light on the mechanism at the basis of the huge increase of conductivity, up to five orders of magnitude, that was found with Cu doping. Experimental data have been modeled by means of multiple-scattering calculations. Our model suggests that the experimental results can be interpreted in terms of a small charge-transfer from Te to Cu, leading to an unexpected positive valence for Te. Interestingly, on the basis of these findings, a global picture explaining the enhancement of electrical conductivity with Cu doping can be proposed: electrical conductivity is determined by the holes created in non-bonding Te 5p orbitals (lone pair) by Cu 2 acceptors. The critical parameter to increase electrical conductivity is the number of CuTe bonds that are formed and not simply the number of Cu atoms.
Fichier principal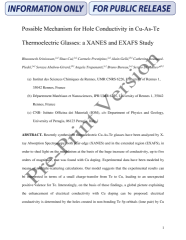 JPCC_B. Srinivasan_Pre-Print (1).pdf (833.94 Ko)
Télécharger le fichier
Origin : Files produced by the author(s)
Comment : It's a pre-print version.