Attending to form in a meaning-focused programme: the integration of grammar into a task-based blended learning programme
What is the place of grammar in a meaning-focused programme? This article seeks to answer that question with reference to a specific course. Among the questions explored by the team of teachers developing the programme regarding a specific focus on form were the when, the where and the how of such work. In terms of when, possibilities before, during and after the task are explored in this paper. For the where, the delivery of such a focus inside or outside the classroom, as well as within a group or individually, is discussed. The how concerns the role of the students and of the teacher. Beliefs expressed on both sides of the learning equation play a role in these decisions. A major part of this paper looks at how these decisions translate into a course programme.
Quelle est la place de la grammaire dans un programme d'enseignement/apprentissage fondé sur la focalisation sur le sens? Cet article vise à répondre à cette question par l'étude d'un dispositif spécifique. L'équipe des enseignant-e-s concepteurs-trices du dispositif s'est interrogée quant à une focalisation particulière sur la forme: quand, où et comment doit-elle intervenir? Cet article envisage les différents moments possibles: avant, pendant ou après la tâche. Il aborde également la question du lieu: en présentiel ou à distance, en petits groupes ou individuellement. La manière dont cette focalisation s'effectue dépend du rôle des étudiant-e-s et des enseignant-e-s, et les représentations exprimées par les deux parties influent sur les décisions prises. L'essentiel de cet article porte sur l'application de ces décisions dans la création d'un dispositif d'enseignement.
Fichier principal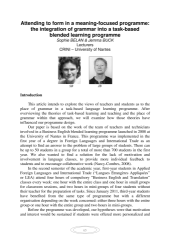 BELAN_2013.pdf (156.17 Ko)
Télécharger le fichier
Origin : Publisher files allowed on an open archive