Methodological guide - ANR GENgiBRe project
Guide méthodologique - Projet ANR GENgiBRe
Guia metodológico - Projeto GENgiBRe
Field research and its methodology are at the heart of the GENgiBRe project's knowledge construction and socialisation objectives. The Methodological Guide therefore constitutes an essential outcome of our project, which reflects our "research-action" approach and our feminist epistemology. The development of this Guide was based on important instruments already proven in the field of feminism and agroecology, such as the Sociobiodiversity Map, the River of Life, the Feminist Social Cartography and the Body-Territory, which were adjusted for the objectives of our project and completed by new instruments. Through this publication, we wish to continue this collective construction, making our Methodological Guide available to communities of researchers with converging interests.
La recherche sur le terrain et sa méthodologie sont au cœur des objectifs de construction et de socialisation des connaissances du projet GENgiBRe. Le guide méthodologique constitue donc un aboutissement essentiel de notre projet, qui reflète notre approche "recherche-action" et notre épistémologie féministe. L'élaboration de ce guide est basée sur des instruments importants déjà éprouvés dans le domaine du féminisme et de l'agroécologie, tels que la carte de la sociobiodiversité, le fleuve de la vie, la cartographie sociale féministe et le corps-territoire, qui ont été adaptés aux objectifs de notre projet et complétés par de nouveaux instruments. A travers cette publication, nous souhaitons poursuivre cette construction collective, en mettant notre Guide méthodologique à la disposition de communautés de chercheur-e-s aux intérêts convergents.
A pesquisa de campo e sua metodologia estão no centro dos objetivos de construção e socialização do conhecimento do projeto GENgiBRe. O Guia metodológico, portanto, constitui um resultado essencial do nosso projeto, que reflete nossa abordagem de "pesquisação" e nossa epistemologia feminista. O desenvolvimento deste Guia foi baseado em instrumentos importantes já provados no campo do feminismo e da agroecologia, como o Mapa da Sociobiodiversidade, o Rio da Vida, a Cartografia Social Feminista e o Corpo-Território, que foram ajustados para os objetivos do nosso projeto e completados por novos instrumentos. Através desta publicação, desejamos continuar esta construção coletiva, disponibilizando nosso Guia Metodológico para comunidades de pesquisadoras e pesquisadores com interesses convergentes.
Fichier principal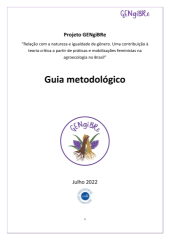 2022-11-17-Guia-metodologico-completo-final--1.pdf (996.22 Ko)
Télécharger le fichier
Origin : Files produced by the author(s)
licence : CC BY NC - Attribution - NonCommercial